Sonslink is a Kingdom Family Connection founded with Jack Taylor as the principal spiritual father.
What Jack Taylor was doing by instinct for most of his life, he felt called by God to begin to do intentionally in 2008; that is, to father spiritual sons who in turn father spiritual sons, generation to generation until Christ comes again.
With this in mind, Sonslink was created. The Sonslink Network is a collection of men and women so impacted by the message, ministry, and person of Jack Taylor that they recognize him as a spiritual father, and in turn, are recognized by him as spiritual sons and daughters. The Sonslink Network is not about one man, but about what God can do with one man to influence a generation.
Papa Jack, as many call him, believed the Father/Son paradigm is the pattern of the Kingdom, and thus the model for relationships in the universe. He believed we have been created to operate in and function through intimate organic relationships with one another, and transcendent eternal fellowship with God. Organizations of man, no matter how efficient or excellent in order, cannot replace the inherent need to know the Father and the Son through the Spirit. Jesus came to make this relationship a reality for us now and forever. The Spirit enables and empowers us for it; the Father beckons us to walk in it.

Sonlink seeks to:
Recognize the Kingdom

of Heaven is at hand by Transforming spiritual Orphans into Kingdom Sons & Daughters.
Receive the Kingdom

of Heaven in our hearts by Translating the Message of the Kingdom into Living Relationships that transform our lives and communities for the glory God.
Release the Kingdom

of Heaven in our lives and the world by Transferring Kingdom Power to the Generations until our Lord returns.
Sonslink is not an organization or even a movement, but a burgeoning family, based on spiritual and relational connections, not on blood relation or doctrines of men. Sonslink is about recognizing organic connections and organizing relationships for better communication in order to complement one another to advance the Kingdom of God, personally and corporately.
This website is a tool for such communication, and for many a first connection with the Kingdom family of which Jack Taylor was the spiritual father.

Relationships are the organic structure of this informal organization. Membership is by mutual consent for mutual benefit. Regular gatherings are the means by which the relationships are maintained and enriched.

"Papa Jack" has three paramount desires:
1. To know the FATHER better,

2. To KNOW his SONS & DAUGHTERS better,

3. and to have his sons and daughters know ONE ANOTHER better in order to become personal and ministry partners.

These desires occurred rapidly wherever Jack preached the Gospel of the Kingdom and gather with those who are seeking the Kingdom first (Matthew 6:33).


Sonslink is a commitment to partner with one another by all means possible to enable each of us to fulfill our personal and corporate destiny.
Jack believed God is challenging the present generation with the question of succession.
What plan do we have for continuing what God is doing with us after we are gone?
This question causes contemplation of our mortality and consideration of what legacy we wish to leave. In the Kingdom of God, it is never too early to seek the will of God concerning preparing the next generation. It is the heart of a father to rear sons who can outpace him. The essence of fatherhood is to see sons be more successful than the father and to spend his life releasing them to their calling in Jesus Christ and His Body.

The core of sonship is to prefer one another and to defer to one another for maximum mutual benefit. Our success is inseparably linked to our plans for succession.

Generational transfer is the most natural (as God intended) way of making disciples. Fathers releasing sons is God's plan of succession.

Sonslink is the call to leave a legacy of Kingdom-centered offspring.
Together, we are:
Discovering the Kingdom,

Declaring the Kingdom,

and Demonstrating the Kingdom of Heaven on earth as God intends (Matthew 6:9).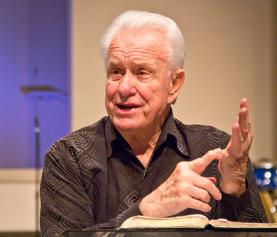 A note concerning the metaphor of Sons:
Sonship, as we define it, is taken from the Old Testament concept of the "birthright" of the first-born son (Genesis 25). We have adapted it to explain a gender-free title that embraces both sons & daughters (Galatians 3:28), yet maintains the benefits of the inheritance and all that the privileged relationship entails. Both male and female may be adopted into the family of God with neither possessing an objective priority. Daughters are sons, too, just as sons are part of the Bride of Christ!
Dimensions Ministries (501c3) and Sonslink
In 1970, God moved in revival in the congregation that Jack Taylor pastored. In six months over 3000 people came to know the Lord. Jack was launched from Castle Hills First Baptist Church in 1974 in to a worldwide ministry through his speaking and writing. He preached predominantly in the United States in churches of many denominations, with trips to Canada, England, Tanzania, West Africa, Germany, Austria and Latin America. Jack spoke often at the Toronto Airport Christian Fellowship where God moved in a dramatic way to touch the community and the world. He ministered the Word through Dimensions Ministries, his support organization of which Dr. Taylor served as the President. Dimensions Ministries (DM) enabled Jack to maintain a busy speaking, writing, and fathering schedule that touched thousands of people each year. DM is a registered 501c3 nonprofit organization that may receive tax deductible gifts. "Papa Jack, as many called him. passed away on April 25, 2021 after battling congestive heart-failure. He is survived by his wife, Friede and his son Tim, as well as hundreds of spiritual sons and daughters. Dimensions Ministries continues to facilitate the Sons Gatherings. Tim has succeeded his father as president of the organization.