Hurricane Sandy passed by Florida without the kind of damage that the people of the northeast are suffering. It is hard to believe that the same ocean that appeared so angry less than a week ago is back to its normal pattern. We need to pray for those caught in the aftermath of the extreme weather. We need to pray for the election next Tuesday, too!

It appears we have weathered our storm as well. It has now been over two months since the accident (August 28) and Dad is making real progress. He has been released by the surgeon and is healing well. He saw his family doctor on Friday and was given a very encouraging prognosis. It is still going to take some time for him to regain his strength after this battle for his health. He is resigned to the fact that he is under medical house arrest at least until the beginning of 2013. He is getting out, but tires easily, and he is resting well. His pain level is very manageable as he is beginning to make plans for the future when he can reengage and get back to normal.

Normal will not be the normal he knew for over 40 years. You may not notice a change but we are looking at ways to increase his longevity by decreasing his travel. We are examining ways to implement an "Acts 28 Model". At the end of the book of Acts, Paul was under house arrest in Rome. Instead of traveling as he had (at least three missionary journeys), Paul rented a place and people came to him.

"30And Paul dwelt two whole years in his own hired house,
and received all that came in unto him, 31Preaching the kingdom of God, and teaching those things which concern the Lord Jesus Christ,
with all confidence, no man forbidding him."

Pray with us as we dream of ways to extend the ministry through local and region gatherings by focusing on developing spiritual sonship. Help us learn how to employ the generational transfer of a spiritual father shareing the riches of his inheritance in the Kingdom, and as spiritual sons seeking to honor and steward the legacy of the previous generation's storehouse of knowledge and experience.

God is at work! We recognize His hand at every turn over the last two months. We perceive His mercy that the accident was not worse. We receive His grace from the kind words, prayers and support that you have sent our way. We cannot conceive of enduring this difficult time without the comfort of His Kingdom family that has risen to every occasion to meet needs before they are known. We believe that the Father has even greater things ahead for the ministry as we learn fresh ways to serve and fellowship together.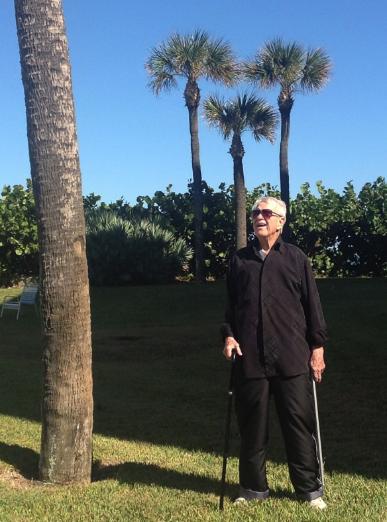 December 15, 2012
Before Thanksgiving Dad underwent a bone scan to determine the progress of his recovery. The results were excellent! It showed that he has mended and there is no need for further treatment. He will still rest the remainder of 2012 and plans to re-engage in January of 2013. Thank you for your prayers!

Continue to pray for swift healing and a speedy recovery as well as for the Father's Kingdom vision for 2013. Blessings on you and your household!

You may send your encouragement to Dad and Friede at:

PO Box 189
Melbourne, FL 32902